The problem with most subliminal programs today is, the very subliminal messages they are embedding in their programs. The typical subliminal messaging is based on "Positive affirmations". On the surface that appears to be the right kind of message to use in a subliminal program, but they are wrong! Dead wrong. Switchword Subliminals actually work and I am offering a 90 day money back guarantee to prove it. Switchwords work. Try them today.
The Programs below each have 3 files.
1. A subliminal Audio that you can play on your MP3 Player 2. A Video with Switchword Subliminals embedded into the scenes. The video is in MP4 Format 3. A PDF guide explaining the program. After Purchase you will receive and email with the links to your download/s.
Switchword Subliminals - Sacral Chakra
SACRAL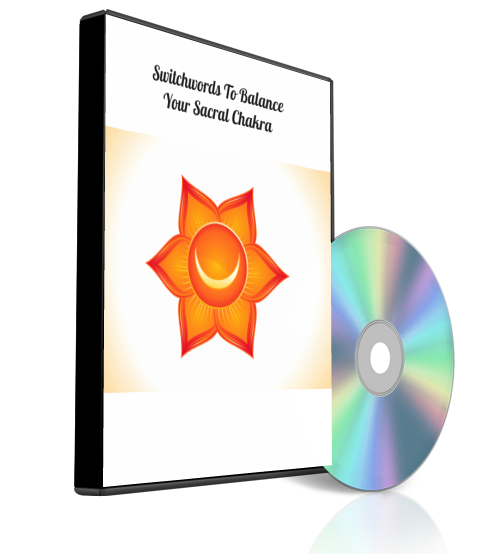 The Switchword Subliminals - Sacral Chakra audio and video program will help you align your Sacral Chakra. The Switchwords contained in this program will resonate strongly with the Sacral Chakra.
Audio(MP3) and Video (MP4) are both 10 minutes long.
The Sacral chakra is our second one. In Sanskrit is called Swadhisthana. This chakra is located in and around the lower abdomen; approximately 2 inches below the navel.
This chakra is an "emotional" one. It has a profound influence on them. And like emotions, this chakras element is water. The body location of this chakra most closely influences the ovaries and testicular regions of the body. Similar to the root chakra, this one can also influence the kidneys and stomach, in addition to the pancreas, spleen, gallbladder and liver.
As you may have guessed, this chakra influences our sexuality, our general emotional states, our interpersonal relationships and our own acceptance of ourselves.
If this chakra is out of balance, several physical and emotional issues may arise. Such as , low libido ,impotence, lower back pain, hormonal imbalances, urinary tract infections, fatigue and generalized pain in the lower extremities. Emotionally, one may experience excessive need for control and perfectionism.Increased irritability, excessive shyness ( I am still working on this), enhanced states of guilt and shame that can lead to addiction. if you ever feel stifled creativity, this too can be an imbalance in this chakra.
If this chakra is balanced, it can be quite beautiful.You can experience increased sexuality and the ability to expertise true intimacy and take pleasure in the things that you do. Your relationships will be harmonious and without drama. A balanced Second chakra essentially imparts a joy for life.